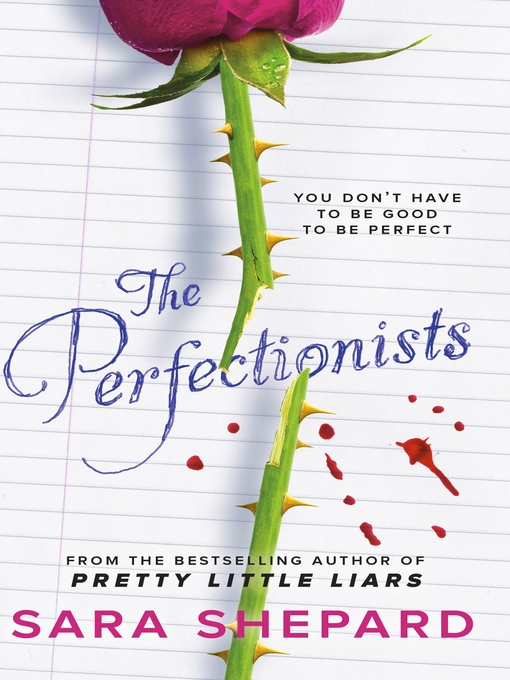 Title: The Perfectionists
Author: Sara Shepard
Published: 2nd October 2014
Publisher: Hot Key Books
Firstly I have a shocking confession to all those Pretty Little Liars fans, I have not read the books or seen the TV series (sorry!) However my blogger friend Zarina from
PagetoStageReviews
has and she was raving about Sara Shepard's new series The Perfectionists, so I just had to read it. Also the cover is so intriguing and it went pretty much straight to top of my TBR pile.
I actually enjoyed this a lot more than I thought I was going to. It starts off with an oh so gripping prologue where the five girls have gathered together and are about to take Nolan Hotchkiss, the king of Beacon Heights High down a peg or too. Nolan is notorious in reeling the kids of Beacon Heights High into a false sense of security with his charm and good looks. He then proceeds to destroy their reputation and even make them outcasts in the eyes of the other students and yet no one stands up to him or questions what he does. This is until Ava, Mackenzie, Julie, Catlin and Parker decide to seek their revenge. However what they only meant to be something to shame Nolan, turns into something more sinister. He is found dead the next day and all evidence points to them. But the thing is, they didn't do it, so who did?
I read this so so quickly, it's one of those books that just sucks you in and I was completely fascinated by all of the characters. They are all so perfect on the outside, but their lives are far far from perfect. I guess you could almost say they were perfectly flawed. Sara is clearly a fantastic writer and brilliant at creating characters and despite their perfect good looks, she has made them believable. Very quickly you are swept up into their quite dark and malicious lives, made so by the people around them.
I did initially find writing from the viewpoints of five different characters a little confusing, as it wasn't clearly defined in each chapter who's viewpoint we were on now. However after a few chapters and getting to know the characters a bit better, this stopped being a problem and I actually began to enjoy reading their different parts in the story.
I really did love this storyline. It's addictive, it's intricate and you honestly do not what is going to happen. And the twist at the end! Seriously need to get on to read the next book now: The Good Girls.
So my verdict of my first Sara Shepard story- brilliant! I need to do some Pretty Little Liars catching up now!