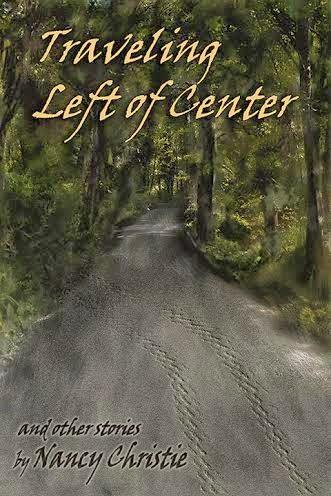 Title: Travelling Left of Centre
Author: Nancy Christie
Published: 9th September 2014
Publisher: Pixel Hall Press
The Stories
ALICE IN WONDERLAND
—Alice is constrained by circumstances and unwanted obligations to live an unfulfilling life. Books are her only way to escape, serving as sustenance to feed her starving soul. But what will she do when there are no more pages left to devour?
ANNABELLE
—A lonely young woman, all Annabelle wants is to love and be loved. But she's fighting by the twin emotions of fear and guilt, unable to let go of the past and embrace the possibilities of a future.
ANYTHING CAN HAPPEN
—Sometimes, what one fears most comes to pass because of those fears. If Charlotte hadn't been so afraid, would the outcome have been the same?
BEAUTIFUL DREAMER
—For Eleanor, it was becoming increasingly more difficult to tell the difference between being awake and dreaming, reality and fantasy. The boundaries were blurring. Would she be able to see clearly again?
EXIT ROW
—He wanted an escape. After all these years, he was ready to go. But could he get away before it was too late?
MISCONNECTIONS
—Anna's recurrent dreams echo through her day, as she attempts to reconcile her inexplicable feelings of loss with what would appear to be a "perfect life."
OUT OF SIGHT, OUT OF MIND
—Despite being more than three steps over the mental health line, he's holding fast to his belief in his own sanity. Or is the rest of the world crazy?
SKATING ON THIN ICE
—Is it possible to overcome childhood trauma? And, even if you do, are you ever really "cured" or simply skating on thin ice, waiting for it to crack? Sarah is trying to skate across the thin ice. Every day, she makes a new path on the surface of her life. So far, the ice has held.
STILL LIFE
—Mirror images of her life: how she wants it to be and how it is. Which one would be her true reality—and does she even have a choice?
THE CLOCK
—Everyone has a breaking point. For Harold, it came one fateful evening when the clock once again stopped ticking.
THE HEALER
—Cassie didn't ask for the gift. She didn't want the gift. For all the good it had done other people, it was killing her. All she wanted was her own healing.
THE KINDNESS OF STRANGERS
—Mona was relying on the kindness of strangers to rescue her. One stranger, in particular. However, thanks to the interference of others, her plans keep going awry. But she's not giving up yet.
THE SHOP ON THE SQUARE
—His attitude of superiority had gotten him quite far in life. Until a chance stop at a small Mexican town illustrated that he had much to learn.
THE STORYTELLER
—Connie makes up her stories as much for the children's sake as her own. But even her stories can't stop the pain of reality from hurting her listeners—or herself.
THE SUGAR BOWL
—Although Chloe's life story changes with every listener, each time her tale has achieved its intended purpose. Until she chooses the wrong person to tell it to.
TRAVELING LEFT OF CENTER
—Her mama was forever telling her that, on the highway of life, she was always traveling left of center. She wasn't a bad girl, mind you—just incapable of looking down the road and seeing where her actions are taking her.
WAITING FOR SARA
—Her daughter Sara is gone, and while it was by her own choice, it was a decision ill-conceived and poorly executed. And so Sara's mother waits, alone and fearful, hoping against hope that someday her daughter will return, safe and unharmed.
WATCHING FOR BILLY
—Agnes was all alone until Billy came to stay. Would he bring new purpose to her life? Or take what little hope she had for companionship?
(From "Traveling Left of Center")
"Girl," my mama had said to me the minute she entered my hospital room, "on the highway of life, you're always traveling left of center."
Mama was always saying things like that. She had a phrase for every occasion, and would pronounce them with a certainty that, in my younger days, I accepted as gospel. But that time, I didn't pay her no mind. I just went on painting my nails "Passionate Purple," hoping that the sexy polish would catch the doctor's eye.
I was justifiably proud of my hands, especially since, at that particular time, they were the only part of me that was skinny. A girl's body sure takes a beating from having a baby. It had taken me at least a year to get my shape back after Robert Nicholas, and it looked like Rebecca Nicole wouldn't be any kinder to her mama than her big brother had been.
(From "The Shop on the Square")
The dirt road was bare and rutted, bedraggled chickens scattering before the car's approach the only sign of life in the isolated Mexican town.
The young man stopped the car, and stepped out into the oppressive stillness. The heat and dust surrounded him, settling into the creases of his gray trousers, on his eyelashes and in his mouth. Everything tasted of the hot baking sun and the dry ground, and he had to swallow twice before his parched throat felt any relief.
Squinting in the brightness, he saw a shop nearby, the open doorway inviting him to enter, the shadowed interior promising escape from the relentless sun. Carefully locking his car against intruders and thieves, he moved toward the darkness.
Inside the store, the walls were hung with Mexican sombreros and brightly colored skirts, splayed out like three-dimensional paintings glowing against the whitewashed walls… But the dust from the street had invaded the shelves, dulling the bright colors. The store seemed to have few visitors—hardly surprising, he reflected, since he himself had stumbled across the town only because of several wrong turns during the long night of driving.
"What kind of people can live in a place like this?" he wondered aloud, and, as if in response, footsteps came from the silent darkness at the rear of the store: the shopkeeper coming to market her wares.