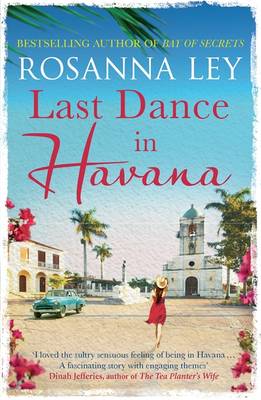 Title
: Last Dance in Havanna
Author: Rosanna Ley
Published: 19th May 2016
Publisher: Quercus
The Last Dance in Havanna begins on a steamy night in Cuba, 1958. This is where Elisa meets Duardo for the first time and where they dance the sensuous rumba. It becomes a night that neither of them will forget, but can their love stand the test of time? Fast forward to 2012 and Grace isn't sure what she wants in life, her husband desperately wants them to have a baby and she thinks she's developing feelings for her Cuban best friend Theo. Grace needs to decide where her happiness lies.
The opening chapter of Last Dance in Havanna drew me in to this beautifully imagined story instantly. I have never known a writer to describe a dance so well that it was almost as if I was watching it. I don't think I will look at a Rumba in the same way again.
With a split narrative between characters, we are constantly transported between Bristol and Cuba. I have been to neither, but through Rosanna's absolutely stunning and detailed descriptions I now feel like I have experienced both. During the times we 'were' in Cuba I could feel the heat and the dusty landscape and the history behind the country. The vibrancy and friendliness that is depicted tells you why people continue to go back, I surprisingly learnt so much about this country from the fantastic research that Rosanna has put into this evocative tale. It was not a country I had ever considered going to before, but thanks to Rosanna, I know must make sure I go there in my lifetime.
Although this book was beautifully written and I can't deny how eloquent Rosanna's writing is, but I did feel like the story could have been wrapped up a bit earlier than it was. Maybe that's just me being impatient to come to some sort of conclusion, but I did feel like that a few times. Also sometimes I couldn't quite handle the frustration of some of the characters decisions, but again just me.
Still a beautiful and evocative tale, that will transport you to the vibrant world of Cuba.