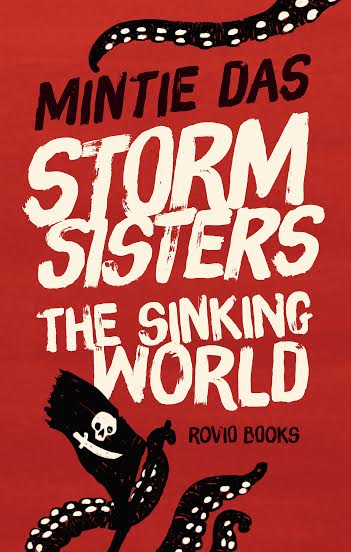 Title
: Storm Sisters
Author: Mintie Das
Published: 30th June 2016
Publisher: Bastei Entertainment
I am delighted to be on the blog tour today for Storm Sisters: The Sinking World by Mintie Das. I am thrilled to be able to share with you the third character introduction out of the five fantastic female protagonists in Storm Sisters. Read on to find out more about Sadie.
MEET… SADIE
AGE: 16
ROOTS: CARIBBEAN
EXPERTISE: POISON
Personality Traits: Trusts her mental prowess more than her physical abilities, nurturing, usually thinks before she acts.
Distinctive Physical Traits: Big, beautiful afro that flies all over the place especially in a strong wind, coffee bean skin
Detailed Description
Sadie rubs Annito oil in her kinky curls every morning, to keep those pesky seagulls from using her chin length afro as a bird's nest. She mashes up a strange paste of ginger root and cascarilla bark when Liu, even after all these years, gets seasick. And when faced with a dangerous foe, she mixes up potentially lethal concoctions.
She's an impossibly curious student, asking questions to the point where everyone (especially Charlie) wants to throw her overboard. With a photographic memory, Sadie goes through books faster than they can be written. She loves all subjects but has a soft spot, probably because of her parents, for medicine. At night, when the other girls count sheep, Sadie recites the names of all 27 bones in her hand—28 if you include the sesamoid.
As a healer, Sadie is the opposite of Charlie in that she's a natural nurturer, and is seen as the "mama" of the group. Which makes her sometimes clash with Charlie, who is only a few months older, as Sadie often reminds her. Curiously, for all her knowledge about herbs and her love for different cultures, Sadie is the worst cook of the gang and the girls dread when it's her turn for galley duty.
There's been a huge, empty hole in her since losing her parents on the Day of Destruction. So when Taye, the older brother she grew up idolising returns, she's determined to hold onto him. Nothing, not even Storm, is worth losing her girls, her bro or herself over.
The Storm Sisters: The Sinking World is out on 30th June