A Cottage in the Country – is it as idyllic as it sounds?

When I wrote 'A Cottage in the Country', the research required for this story had already been done. In fact, as the saying goes 'Been there, done that'. I hasten to add that I'm only referring to the experience of renovating an old cottage. But when recently-divorced Maddie Brooks ran away from the city, and friends who had only ever known her as one half of a couple, she was viewing her idyllic cottage in the country through rose-tinted glasses.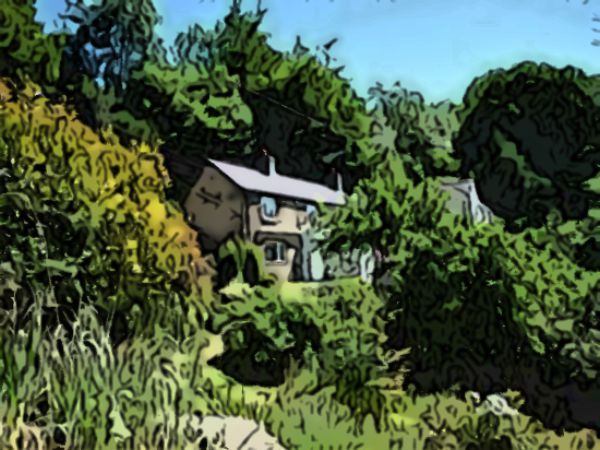 We moved into out current home, a lovely old cottage on the edge of the Forest of Dean, on the 19th December, 2013. One week before Christmas and when the floods in the Gloucestershire area were about to get a whole lot worse! It just didn't stop raining and the day we moved in with a nightmare. Everything was soaking wet, boxes literally falling apart. The cottage had been empty for a year and when we tried to fire-up the central heating, the motor had seized and a local plumber confirmed that the part would not be available until the new year. The local flooding stopped the new furniture arriving and that first night we slept on the floor. Worse was to come as we ripped out the kitchen, only to find that flooding was to get even worse. Imagine Christmas day - no cooker and no kitchen. Cheese sandwiches for lunch. Yes, that really happened!
While this story, and the characters in it are fictional, the sorry tale of the move from hell is real. But the upside? Well, this:
became this:
In fact, if I'd included all of the disasters that beset our move in the story, then I'm sure readers would have thought I'd been exaggerating. However, it was the perfect setting for telling Maddie's story. No matter what age you are, divorce hits hard and when your husband runs off with your best friend it turns your life upside down. Enter ex-soldier Lewis Hart - surly, rude but the only contractor who can come to Maddie's rescue over the worst Christmas of her life! Or is it ...
A Cottage in the Country by Linn B Halton:
What do you do when your best friend has an affair with your husband of twenty-five years? The father of your two children and the person you trusted with your heart?
Well, you pack your bags, grab half of the equity in the house you've both lovingly restored and run away to an idyllic little cottage in the country.
Only, it's not quite so idyllic when
1) the survey comes back to reveal 'rustic charm' actually means rundown.
2) The heavens decide to open on moving day and the rain just keeps on coming.
Maddie Brooks grits her teeth and hires the highly recommended 'man who can', ex-soldier, Lewis Hart. As he rips out the very shabby, and decidedly not-so-chic kitchen, reality sets in. Not only is he the most abrupt person she's ever met, but the man is a Neanderthal!
As the flood waters rise, and the village is cut off, everything that could possibly go wrong, does.
Hitting the big five-o is the final straw. No presents, family or friends—just infuriating Lewis, who can't leave because the flood has now cut off his exit. How on earth is she going to get through this and put her life back together?
Can Maddie Brooks become that 'fifty-and-fabulous' woman of her dreams?
Author Bio:
Bristol-born Linn B Halton lives in the small village of Lydbrook, which nestles on the edge of the Forest of Dean, in the UK. She resides there with her husband and feline with 'catitude'- Mr Tiggs.
Linn began writing in March 2009 and her debut novel was published in February 2011. In a recent interview Linn was asked about genres:
"From a very young age I knew romantic fiction was always going to be my genre. I am, and will always be, madly in love with love! Whether that's love of life, a partner, or the things I'm passionate about.
My stories are about love, life and real relationships - but romance is always the one thing that holds each story together. Often there's a light, psychic touch and I never dreamed I would write drawing upon my personal psychic experiences. But as my interest and understanding in the subject has grown, it is now such a part of my life that it finds its way into my fictional tales. However, what is heartening is that most of my experiences have been uplifting and it's wonderful to know loved ones are around me always. I hope it will make readers stop and wonder 'What if?'
The result is that I get a lot of mail from readers who have had similar experiences and some are sharing theirs for the first time with me. I always feel that's something rather special and for which I'm very grateful."
Love, life and beyond... but it's ALWAYS about the romance! Linn is published by HarperImpulse, Endeavour Press and Sapphire Star Publishing.
Linn is also the managing editor of Loveahappyending Lifestyle emagazine.