If you enjoy steamy romance and gritty
An author who loves to create characters and drama set at the sharper end of society!
Hit Lit Pro is proud to be supporting and promoting ten fabulous authors whose novels are creating quite a stir! Throughout the next year we will be bringing you all the latest information and news about their books.
What does Emma write about? Emma Calin writes steamy romance novels and gritty short stories about love and survival in the 21st century. She loves to create characters and drama set at the sharper end of society with witty and sassy heroines who overcome their circumstances to get the love they deserve. Often considered 'cross-genre', Emma's books combine romance with crime, action, mystery and suspense, a dash of humour and a sprinkling of philosophy. She has published a number of digital, paperback and audio books which are available on Amazon, iTunes, Google Play, B&N, Kobo etc. and other good bookstores worldwide.
She also blogs about her dual life in Saint Savinien sur Charente in South West France and Romsey, a market town in England. She feels extremely lucky to be able to experience the world and life through these two, very different, lenses.
"I have never woken to a day when I didn't want to write. Over the years I have written poetry, short stories and features – many published in women's magazines. I have had the good fortune to win a number of international writing competitions. I have also been rejected by every publisher and agent that I ever approached. The digital revolution finally gave me the chance to share my stories with readers around the world. I have been delighted to meet so many new friends across the USA, Canada, Australasia and India as well as in Europe and of course the UK, through my books.
On the personal front, life in our house is always hectic. We are a "famille recomposée" - a lovely word the French use, for a family unit made up of a couple with children from previous relationships. I'm not sure if the term "recomposed family" is used in the English-speaking world yet. Between us we have eight children aged between 45 and 16 and four grandchildren. Luckily most of them are independent adults now, although three are still in full time education.
My partner and I have both worked in France, speak French fluently and are complete Francophiles. One day we hope to move out to France permanently but at present, day jobs and family commitments limit us to school holidays only. We love the language, the culture, the people and of course, the wine and weather.
When I'm not writing, I love to get out on my bike - well my tandem actually. My partner used to race and I could never keep up with him, so the tandem is the perfect solution. We tend to get out more in France as the weather is usually better as it's a couple of hundred miles south of the UK and so five or six degrees warmer. The roads there are peaceful and although French drivers are mostly mad, they are very respectful of cyclists.
I love cooking – which is lucky as with such a large family, we are frequently into mass-catering. We enjoy trying new foods and I'm always pumping my neighbours in France for their secret tips and ancient family recipes. The idea for a cookery book featuring the meals from my latest novel came about as a result of my foodie tendencies.
My other hobby is music - I play the trombone in brass bands, ensembles and with anyone who is short of a bit of oomph in the bass line. It's not very ladylike I know and was not my first choice of instrument (I always fancied the elegant poise of a flautist). At the age of eleven, I went to a brand new secondary school which had just been kitted out with a classroom full of shiny new instruments. Our music teacher lined us all up. As a larger-than-average child I was the only one with big enough mouth, lips and lungs to get a note out of the trombone. The silver device was duly handed to me in in a case and I was given free lessons for a year. By then the die was cast. I'd discovered I could make really big rude sounds – plus we had water sprayer devices for keeping our slides nice and slippery - so there were plenty of opportunities for antics in the back row. I joined an orchestra, a brass band and a big band. I later moved on to a single-sex grammar school, and as a boy-starved teenager I rather relished band practices, as all the other trombone players were lads. So trombone playing had unexpected romantic benefits after all! Here's a clip of me playing my trombone http://youtu.be/m3eZ61Pqnhs."
Find out even more about Emma
and her steamy, and sometimes gritty, stories:
Website:
http: //www.emmacalin.com
Facebook:
https://www.facebook.com/emma.calin
Twitter:
https://twitter.com/EmmaCalin
about.me:
http://about.me/emmacalin
Amazon author page UK:
http://www.amazon.co.uk/Emma-Calin/e/B0051TAKUK
Amazon Author page USA:
http://www.amazon.com/author/emmacalin
Smashwords Author Page:
https://www.smashwords.com/profile/view/Emmacalin
Pinterest:
http://www.pinterest.com/emmacalin/
YouTube:
http://www.youtube.com/user/modestymillie
And follow us on Twitter and Facebook for all
We'll be posting about: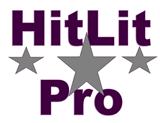 * How to become a no. 1 fan and we'll put YOU in the spotlight
* Competitions to win free ecopies of some great books
* How to join in and send us your reviews to air on our new FB page
* 'Ask the author' will allow you to discover more about the stories you will read and love
and MUCH more to come! If you can't wait and want to get involved in supporting our fabulous authors, then email Suzanne Carlisle at hitlitpro@gmail.com.

We'll be sending out Tweets and posts to keep you up to date and make sure you don't miss a thing!